About us
About us
EuroScholars aims to contribute to the quality of academic research and international higher education by creating opportunities for scientific knowledge and cultural exchange with a strong focus on academic research.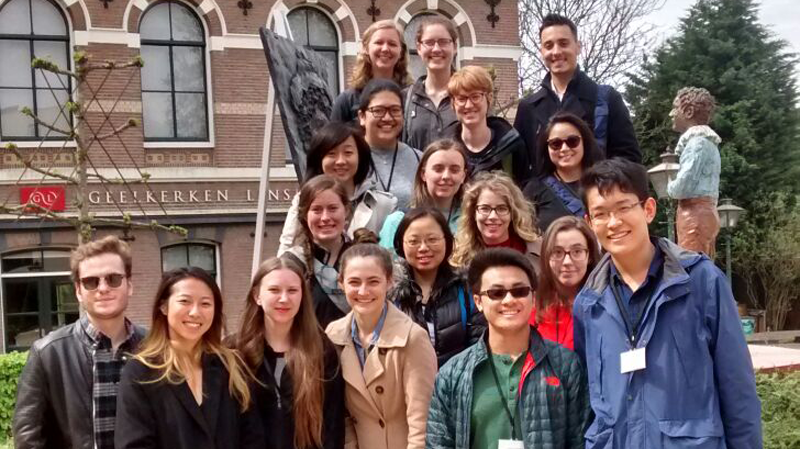 History & Context
Mission
The aim of EuroScholars is to create a framework within which young talented researchers (international students) and senior European researchers can work together on academic research. This in turn leads to the attraction of more international students to Europe.
History
In early 2005 Leiden University first conceptualized the idea of creating a new and innovative international study program focusing on high-quality scientific research. In collaboration with several European and American universities different opportunities were explored throughout 2005 and the first months of 2006. In order to attract more international students to Europe a research-focused program seemed to best fit the demands of both the American and European institutions. All parties saw the advantages of a program based on academic research. American students envisioning a career in academic research could gain practical research experience during their undergraduate period. For Europe, attracting such students would lead to an internationalization of the research environment and give host universities the opportunity to incorporate research into their study abroad options. The EuroScholars Program also contributes to the expressed wishes of the Lincoln Committee, i.e. to increase the number of American students studying abroad.
European partners
Ever since its initial conception, one of the main features of the program has been the focus on highly talented students with a good GPA. European partner institutions were then sought out where research is carried out at a sufficiently challenging and stimulating level for such top students. These institutions also had to guarantee a high quality program, another basic characteristics of the program.
Partners were found in the best research universities on mainland Europe:
All of these universities are part of the League of European Research Universities (LERU). They carry out academic research at the highest level and in many different fields. Areas in which students can do research range from Language & Culture, History, Humanities, and Social Sciences to Physics, Biology, Biomedical Science, Law and Chemistry.
Unique study opportunities
For American and Canadian institutions, EuroScholars has created new opportunities for students who express a strong interest in academic research early in their academic careers. Such students need to be encouraged and cherished by their universities as they represent the future of pioneering research, which in turn could benefit the whole world. Previously these students had no access to fixed programs which granted them access to research abroad. EuroScholars was the first to provide this type of program, offering both institutions and students the opportunity to benefit from research experience abroad. For students with a strong interest in scientific research this is a unique opportunity.
Enhancing appeal
Through the EuroScholars Program European institutions offer international students the experience of European research methodology, whilst the participating students bring new overseas insights with them to Europe. In this way the program offers students a unique and individual perspective on how academic research is done in Europe, which is of great benefit to them in their future (academic) careers.
Market research also shows that a large percentage of students studying abroad during their undergraduate period come back to the same university for their master's and/or PhD degree. The EuroScholars Program therefore also increases the appeal of undertaking research in the European higher education sector.
The name 'EuroScholars'
The name EuroScholars both reflects the academic basis ('scholar') and the geographical location of the program in Europe ('euro'). Participants in the program become true 'EuroScholars' by contributing to European scientific research. 'Euro' also expresses the different characteristics of the program being an abbreviation for 'European Undergraduate Research Opportunities'.