International
Since those early days,  it has developed into a truly international university, annually hosting more than 3000 international and exchange students each year in its Bachelor and Master programmes, almost 1000 international PhD students and more than 800 international academic staff.
The university is member of several international university networks. Membership in the League of European Research Universities (LERU) is of particular strategic importance for Leiden University. 
Contribution to society
The University intends to make major contributions to society in the areas of prosperity, well-being and culture. Talent is indispensable to the realization of that ambition. To this end, the University is committed to both recruiting and developing talent, involving secondary school pupils, university students, and young researchers and academics.
Leiden, The Netherlands
Life in Leiden is greatly influenced by the relatively large number of students, as most of them both live and study in the historic town of Leiden. It is very easy to run into someone you know when you go shopping or when you go out at night. Since Leiden is a small town, all the university buildings are within walking or cycling distance. Students tend to feel at home quickly, because of the safe environment and the individual approach.
Leiden is located just twelve kilometers east from the North Sea coast, in between the cities of Amsterdam, The Hague, Rotterdam and Utrecht. The Hague can be reached by train in 12 minutes, Schiphol Airport in 20 and Amsterdam in 30 minutes.
Brianna (Clark University) has summarised her 7 months experience at Leiden University in the movie below.
Academic Highlights
Leiden University offers outstanding international students an intellectually exciting learning environment with high academic standards. The focus is on debate and critical thinking, rather than on knowledge transfer, whereby the students' ability to think independently is greatly stimulated.
As a research University, Leiden University focuses on fundamental research and research-based education. Fundamental research is typically curiosity-driven, and researchers develop their curiosity through their observations. It is usually unpredictable as to its course and outcome and often leads to new insights into the essence of nature, the human mind, and the complex interactions between their elements. This gives rise to innovations, to new developments and solutions to emerging problems.
Specific Research Opportunities
Theoretical physicist Prof. Carlo Beenakker has been awarded the Akzo Nobel Science Award (October 2006) for his pioneering work in the field of nanoscience, the world where atoms and molecules can no longer be distinguished. His research focuses on the fundamental physical problems which occur when an object of macroscopic proportions is miniaturised to nanometer scale.
Leiden academics and students who need to consult books from the eighteenth century on such diverse subjects as the Wealth of Nations by Adam Smith, political satires, medical works, or the first European grammar of Chinese, now have exclusive access through Leiden University Library to a large digital corpus: Eighteenth Century Collections Online or ECCO. ECCO is a digital collection comprising over 150,000 books published in the Britain between 1701 and 1800.
Dutch Language course
The Dutch language courses (Dutch 1 and Dutch 1A) are offered by the Academic Language Centre. The Academic Language Centre has an affiliation with Leiden University. These courses cover all basic skills: speaking, listening, reading and writing, and particularly focuses on everyday language use. Other areas of focus are basic grammar and basic vocabulary of Dutch. During class, conversational skills are practiced by speaking with the entire group, with smaller groups, and by making use of the equipment available in the language laboratory. One lesson requires approximately two hours of preparation. Upon completion of this course, students are able to have a short conversation on everyday subjects such as where you live, where you are from, and family background. Studens are also able to understand notices and simple texts. Students will also learn about several aspects of Dutch culture, e.g. the polder landscape, the organization ('pillarisation') of Dutch society, and the growth of a multicultural society, as well as the history of Leiden and typical Dutch celebrations.
Dutch 1 is an intensive course and is concluded with a final test and a certificate (minimum attendance of 80% required).
The total hours of study for this course is 110 hours which is about 4-5 ECTS.
The course is finished by an exam, for which you will obtain a grade.
Students will get a certificate of attendance if they have attended at least 80% of the course and can request for a "Declaration of the Study load". These are provided by the Academic Language Centre.
The Declaration of the Study load, shows the numbers of study hours and the grade obtained.
The total lecture hours for Dutch 1 are 42 hours + 68 self-study hours.
Dutch 1A covers half of the material of the Dutch 1 course.
The total hours of study for this course is 55 hours, which is about 2 ECTS.
The course is NOT finished by an exam, so there will be NO grade.
Students will get a certificate of attendance if they have attended at least 80% of the course. This is provided by the Academic Language Centre.
This certificate will only mention the course attended.
The total lecture hours for Dutch 1A are 21 hours + 34 self-study hours.
NOTE: Language courses offered through the Academic Language Center, are not and cannot be added on the official transcript students receive from Leiden University.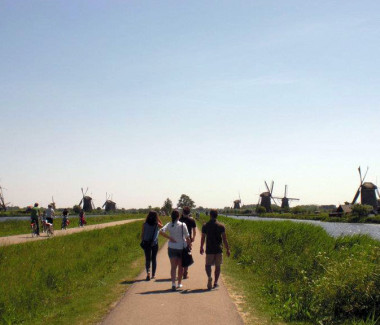 Living in Leiden
More information about housing, visa & residence permit, insurance, student support, leisure and other facilities
Read more